Thank you Village Harvest for sponsoring this post. Every day Village Harvest is planting seeds of change and growing possibilities, one bag of goodness at a time.
When life gets too busy to cook, grab Village Harvest's ready-to-eat organic brown basmati rice in 5 exciting flavors and make this VEGAN Strawberry Raita for a delicious healthy meal in 2 minutes.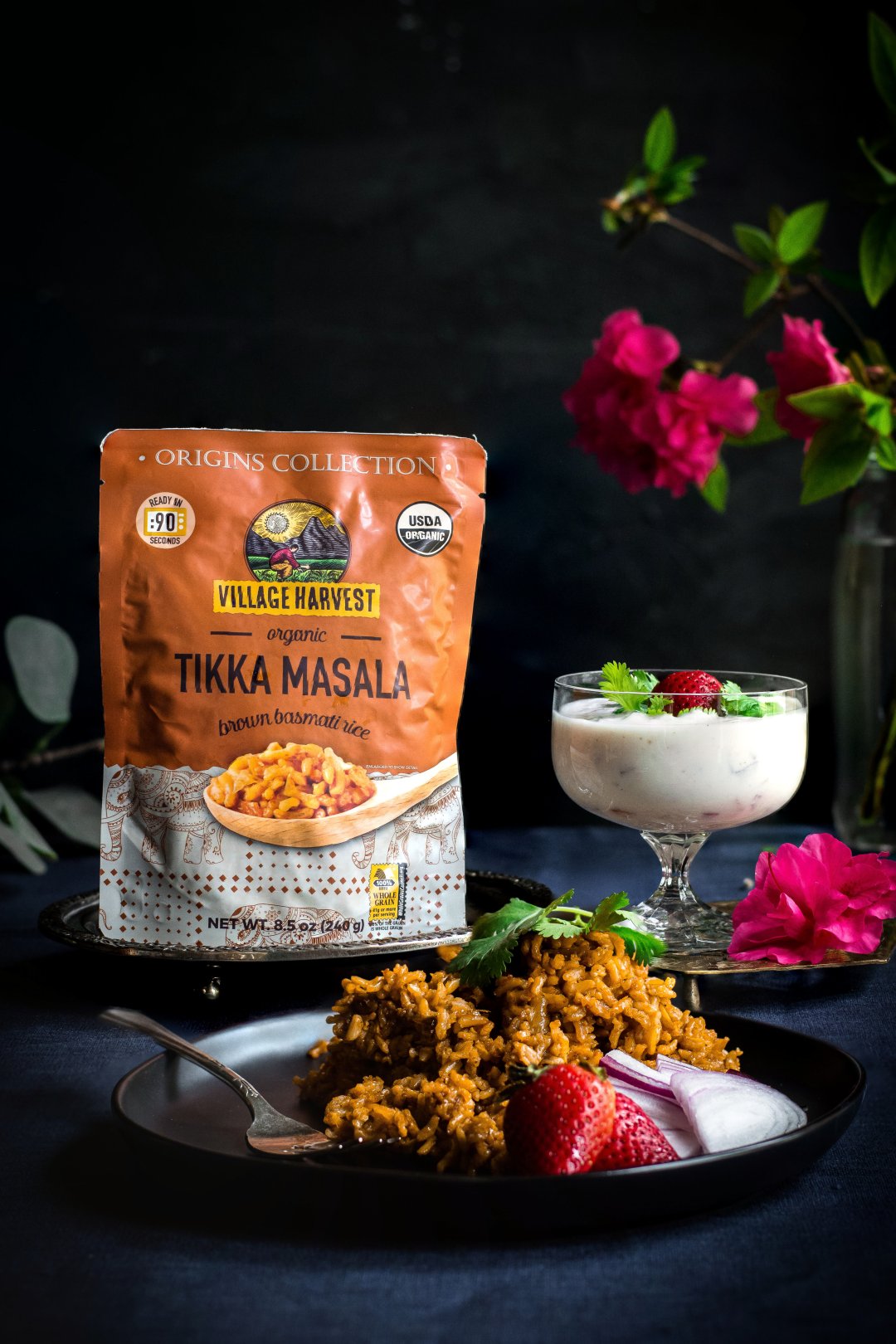 <<Click image above to buy Village Harvest's Origins Collection Ready-to-Serve Rice>>
When I tell people that I'm a food blogger, they immediately assume that I only eat gourmet meals, elegantly spread and styled on a table that looks like it was borrowed from a place setting from heaven. False. As much as I immensely enjoy the work and the inevitable mayhem that comes with it, the endless mountains of dirty dishes and a kitchen counter from hell buried under half chopped ingredients and spills, leaves me very little time to sit down and enjoy the fruits of my labor.
Usually, after the hours and hours spent planning, sourcing, cooking, styling and photographing, the second that last photo is clicked and edited to satisfaction, the set gets scrapped clean. The beautifully plated food that was just revered moments ago, worshiped by the plethora of props thronging around it, the very apple of my camera's eye, is unceremoniously scooted off to the kitchen and returned to the mother pot, to be devoured with the rest of the batch later.
Sure, I may absentmindedly nibble or sip on it as I clean away or edit the pictures, but that's just about the mindless extent to which I enjoy the food I style and beautify for my pictures. If I just shattered some perfect illusion you had of bloggers everywhere living such fake lives, let me reassure you, the test batches are where the magic's really at – I sit down with a notebook and everything, savoring every bite and sip, taking copious notes on how it feels, smells and tastes, to translate the essence of it all back to you, my readers, with pompous aplomb.
But as nightmarish as the rest of it sounded, I thrive in the beautiful chaos it brings. It pleases me to create something beautiful from scratch, wreck it down to scraps and re-build something new another day with the pieces. It's like playing with puzzles, except mine create different images every time. And as with all things you truly enjoy doing, when you're having so much fun, you forget other things of importance: like sustenance, for example, and remembering to actually eat lunch at noon and not at 4 p.m. when it's too late to be called lunch and a tad too early to be called dinner.
And there are only a few years in your twenties when it's safe to get away with eating instant noodles and calling it a meal. I've just stepped over the hump into the thirties and found a sudden need to change my wily ways with food. I've become more conscious about the things I put into my body, and the effect it has on me. All things white and refined are being swapped for brownish unrefined things, I'm eating way too much kale and spinach, and my eyes seem to increasingly scan labels for the word 'organic' and 'whole'.
Which brings us to Village Harvest's Origins Collection of ready-to-eat Brown Basmati Rice – organic, Non-GMO, whole grain, gluten-free and made with love by chefs who hand chop the ingredients and cook them in small batches for authentic flavor and a homemade touch. They come in 5 flavors inspired by Thai and Indian flavors – two of my favorite cuisines in the world!
From India:
Basmati and Lentil – very reminiscent of the childhood classic Dal Chawal. Soothing, comforting and my favorite.
Lemon Rice – You couldn't grow up in Southern India and not know 'Lemon rice'. Smells like bottled-up summer in a bowl, with the intoxicating fragrance of citrus and cumin. 
Tikka Masala – This one is a global favorite, because when you hear Indian food, you think Tikka Masala. A sweet ride down the flavor train that you just won't forget.  
From Thailand:
Coconut Turmeric – There are few things in this world that are as indulgent yet comforting as rice cooked in coconut milk.
Thai Green Curry – Lemongrass and basil – 'nuf said!
Needless to say, my fridge is now stocked with all these flavors, ready to be ripped open and heated for 90 seconds, the time which I use to make a quick and delicious side to go with the flavorful, natural, healthier, almost-like-homemade rice that I conveniently purchased. I know, right! Meant-to-be!
Speaking of a side that is ready in under 90 seconds, and goes with all these diverse 5 flavors, here's my Vegan Strawberry Raita. Strawberry, I know! Unusual, but adds that sweet+tartness+fruity flavor to the slightly sour creaminess of the cashew yogurt, and together with a little onion, green chilies, cilantro and ground cumin, creates a delightful pool of flavors to fish from.
And although it goes with all the other Village Harvest flavors, my favorite pairing for this raita is the Village Harvest Origins Collection Tikka Masala. There's something about the rich spices in the rice and the creaminess of the raita and the refreshing fruitiness that just, works!
So, even on those busy, manic days where I'm constantly creating and destroying things, tackling a mound of dirty dishes, replying to countless emails while simultaneously planning two or more projects in the pipeline, I now can heat myself a decent lunch/dinner in 90 seconds – made with real ingredients, organic, flavorful, not to mention delicious and eat on time without skipping a beat. Because let's face it: no one's getting any younger and it's absolutely important to eat for your age.
Buy Village Harvest Origins Collection ready-to-serve Brown Basmati Rice here.
Notes:
While you can use any yogurt (dairy/plant-based) to make this Vegan Strawberry Raita, should you wish to make it plant-based, I'd recommend trying it with this homemade VEGAN Cashew Yogurt. It's creamy, doesn't have any nut flavor and is the closest I've come to replicating the taste and texture of dairy yogurt. 
I was selected for this opportunity as a member of CLEVER and the content and opinions expressed here are all my own.
When you make this delicious Vegan Strawberry Raita (which I really think you SHOULD!), be sure to SHARE YOUR PHOTOS with me through Facebook, Instagram or Twitter. I'd love to see what you cook from here!